Job positions
We are always on the look for interesting people who like to solve interesting problems. We build software, so naturally having an engineering background is a plus. Fluent english is a must. An open mind is non negotiable.
Design your own role
The base assumption behind our organization model is that the traditional, linear, fragmented, ascendent, specialized, fixed model for defining roles and team interactions is no longer correspondent with the tenets of reality (if it ever was). 
You don't necessarily have to fit with a specific role we're hiring. We believe every person is unique and different, and that our teams benefit from diversity and skills that we often didn't know we were looking for until we found them. So, if your profile doesn't fit the listed job descriptions and offers, that's OK.
We have a knack for multidisciplinary people, a mix of science and arts, odd backgrounds, and experiences. Check out the kind of projects we work on, the way we organize ourselves, and if you think you can and want to contribute to our mission, we're more than happy to get to know you and see if we can build great stuff together.
Required experience
We are looking for candidates who have:
Designed or built stuff. Any type of stuff.
Great communications skills; we love a good writer.
An open and fresh perspective on life.
A love for arts, science and technology.
Unrelentless curiosity
Apply here!
VP of Culture
Contributing to the happiness of people working at Manas has always been at the core of our mission. As our VP of Culture, you will be leading our efforts to continually monitor, redefine and implement what that means.
We believe in providing autonomy, responsibility and removing all unnecessary obstacles to creative freedom at work. At Manas, we remain dynamic by adapting our policies and internal systems to accompany the growth of our team in all aspects.
From evolving our Career Garden to implementing our Decentralized expensing system, you can expect to experience the thrilling adventure of working in an organization at the frontier of new paradigms of working together.
Required experience
We are looking for candidates who have:
Participated in the leadership of the HR department of a company of 30+ people
Studied and ideally implemented ideas from works like The Chaordic Organization, Reinventing Organizations, The Fifth Discipline, Conscious Business, Sociocracy.
Excellent empathic communication skills
Experience with facilitation and conflict resolution
Nice to have:
Experience working and hiring in the tech industry
Bilingual fluency in English (required) and Spanish, French or German.
Apply here!
What we offer
Be part of an ever evolving organization
Public enemy #1 at Manas is the phrase "that's how it's always been". We are always on the look for opportunities to reduce unnecessary overhead and to increase the creative freedom of our teams. Manas is the vehicle for our work, not something that needs to be managed.
Strive for excellence
Delivering high quality products and keeping our promises is what keeps our clients happy and our business running. We call that excellence. Understanding that people do their best work when they feel connected with their goal, have autonomy to reach for it and enjoy the challenge, we create the context for those things to happen. It makes sense, and it makes room for excellence.
Set your own schedule
Many companies offer "flexible hours". That means that there is still an expected schedule, and a tolerance around it. We don't have a schedule. At least, we don't have one schedule. Office hours should be a function of the work, not a function of the office. 'Full-time' and 'part-time' are terms of the past. We believe in commitments over contracts. You can even take as much vacation time as you need. We know productivity and happiness are not opposing forces, but rather one leads to the other.
Teams are groups of people who trust each other. We ask for three things from you:
That the average number of worked hours over the course of a 3-month-period matches the workload you committed at the beginning of said period. Accordingly, you can review this commitment every 3-months.
That you make sure your work schedule and that of everyone in the team you're working with overlap for a span of 3 or 4 hours a day.
That you let your team know if you are not going to be available for exceptional reasons.
Take ownership of your compensation
At Manas, salaries are designed to acknowledge and compensate individual qualities on a professional and human level, and automatically keep up with inflation.
We calculate compensation using a 4-component structure, that aims to recognize the different elements each of us contributes to the collective efforts, and allows us to allocate resources without resorting to a hierarchical structure, maintaining our systems and mechanisms as transparent and fair as possible.
You can play around with our compensation tool to have a better understanding of what your salary would be if you joined us.
Work from where you are
We like having a shared space where we can get together, work with other people and socialize without screens between us. But some of us live in a different city and some of us work from home, and that shouldn't get in the way of efficiently working together. The fact that the office can't move doesn't mean that you shouldn't.
Do meaningful work
We have a substantial background of collaboration with humanitarian organizations, contributing technology to alleviate complex problems like natural catastrophes, illiteracy, disease monitoring and environmental risk mapping. It makes us incredibly proud to know that our daily jobs actually save lives.
Unconventional projects
The projects we work on are as unique and diverse in goals and interests as the people in our team and our customers. We have done a multi-modal survey tool that was deployed in 5 countries, we developed an interface for a spacesuit helmet, built a social app for mothers, and even IT without software.
Know the world
We collaborate with organizations from all over the world, and we do our best work when we can interact directly with end-users. That adds up to a lot of traveling: we have collectively traveled over 2,8 million Km. and went to every continent.
Design your work
At Manas, you can choose which projects to join and for how long. Some prefer small projects to frequently change the stack and problem they're working on, while others like to participate in larger projects and see them evolve. We periodically survey our collective interests, and do our best to find projects that tickle those motivations. Roles are also flexible: you can change roles completely, lead or stop leading teams, take care of new areas, take on more responsibilities or step down from them for a period of time. Every member of our team is empowered and has everything they need to succeed, and that is how we deliver the best of our expertise and creativity.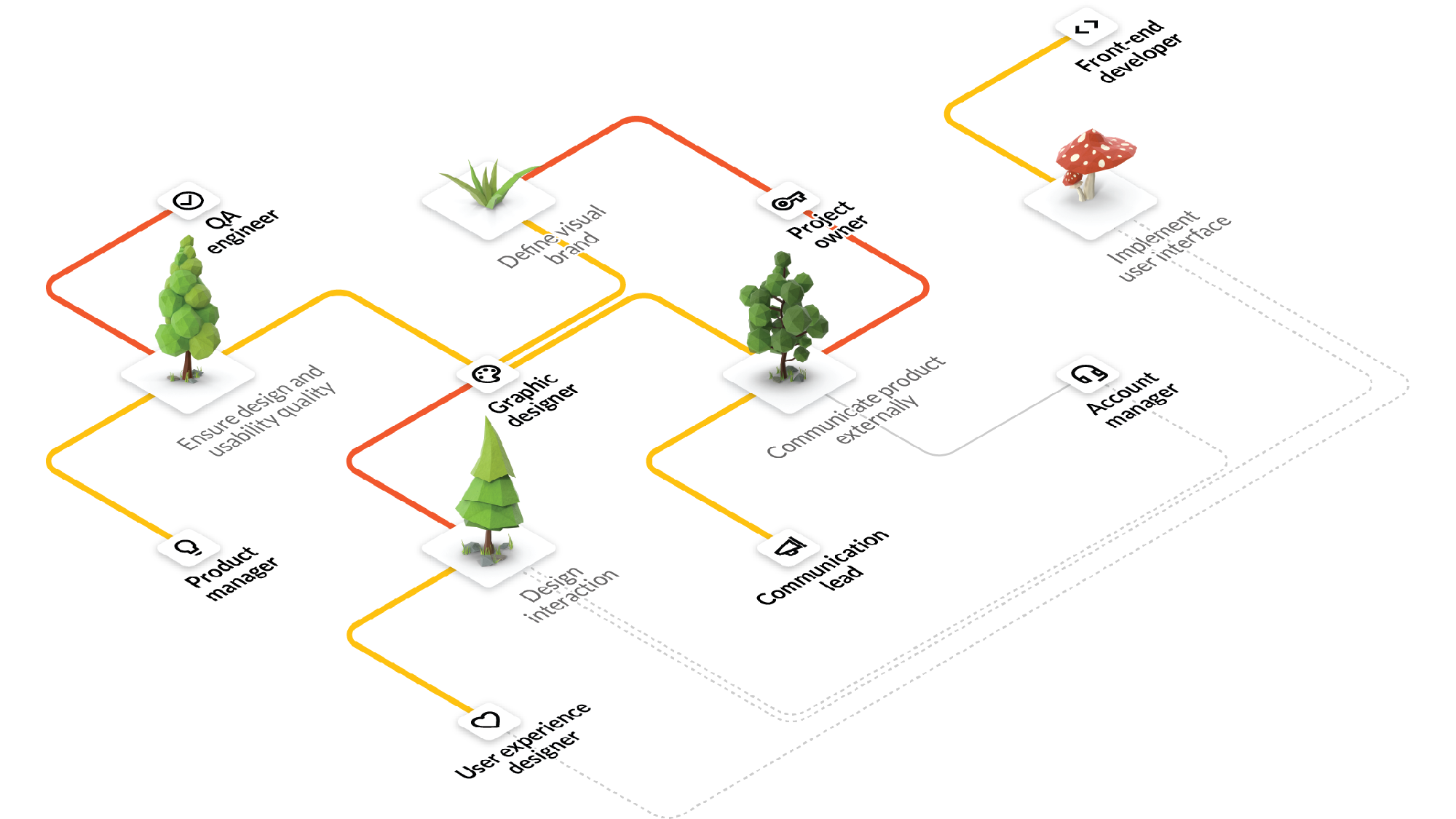 Grow
An organization grows when the people in it grow. A core principle of life at Manas is learning: you learn by doing, you learn from the people around you, and we learn from you. Furthermore, you have access to budget for courses, books and online materials, attending conferences and any other learning tool that you need to become your best self and do your best work; no questions asked, no bureaucracy.
Not a factory
Cookie-cutters are great for making cookies. For everything else, we steer away from them. We believe tools are a function of the problem to be solved and of the needs and wants of the individuals who will be using it. In line with this, we use the appropriate tool for each job, select the right stack and language for the project, adapt the methodology to the needs of the customer, and encourage our teams to adjust details of their processes. This allows our team the freedom to explore and take ownership of their work, and avoid falling into a rut.
Experiment
We don't know everything, and we don't expect anyone to. We do expect you to test your ideas and see what works and what doesn't. We've been experimenting with projects since our earliest days, and it is a central part of what we do: it allows us to play with new technologies, find the right tool for each job, explore new domains and, occasionally, scratch our own itches.
One of those experiments has seen an enormous success. Crystal is a programming language born and raised at Manas, designed to run blazingly fast with a very low memory footprint. Since its inception in 2011, it has outgrown even our wildest expectations: it powers infotainment systems in hydrogen-electric trucks, it is used to run genome analysis at speeds previously unheard of, it runs under AI-powered security testing, and many other companies have also built part of their tech stack using Crystal, achieving large performance improvements, while retaining maintainability.