Requirements & Context
In collaboration with InSTEDD and Fibertel, we held a two day workshop at Red Cross' offices, with the purpose of identifying issues in the organization's protocols for emergency response, and designing proposals to solve those issues with the help of technology.
Approach
The workshop's dynamic was designed to ensure every voice in the room was heard, enabling an exploratory analysis of issues in every area of the organization, and later a prioritization of issues in accordance with Red Cross' goals.
The fundamental premise of the workshop was to understand the current operation of Red Cross in the face of an emergency, to identify existing issues and build solutions collectively, making sure those solutions were viable and pertinent to the concrete problems that affected the organization.
With said premise in mind, the workshop was divided into two main parts, one per day of work:
Comprehension of the current situation and problem exploration
Generation of possible solutions for the identified problems
Workshop card system
The workshop started with a desk simulation of a generic emergency response scenario, for which everyone in the team individually had to identify issues that might come up in a situation like that. The identified issues were then put in common, and the group had a brief discussion about how each of those issues related to Red Cross' goals; this led to a list of the three most important issues to tackle. This is vital to make sure we were working on a problem that is both important and strategic for the organization.
On the second day of the workshop, with a prioritized list of issues to tackle, the team held a brief discussion about the most important discoveries of the previous day, to contextualize the topics to work on for the remainder of the day. Taking the top three priorities, work during the second day was dedicated to design possible solutions for each of them. We estimated time and budget for each of these proposals, including basic guidelines for their implementation, to give Red Cross a frame of reference that allowed them to make decisions.
During each discussion, the team dissected the issue at hand and points to be improved, then identified functionalities required by the system, and then gathered the necessary information to design and an estimate each proposed solution. During this process, it was key to constantly validate that each part of the solution was coherent with the operating context of Red Cross, to make sure we were designing something usable and viable.
Results
The biggest takeaway was the definition of a model for making informed decisions about every initiative, based on the organization's available resources and on the impact they want to generate.
The exploratory exercises carried out during the 2-day workshop led to a set of proposals for technology development:
Resource Registration System
This system aims to solve the issue of knowing exactly what resources are available, and where, improving the organization's capacity to respond quickly to an emergency.
Automatic Resource Follow-up Tool
As a complement to the Resource Registration System, this tool uses Bluetooth tags to mark the most important resources and monitor their location automatically through smartphones.
Resources order
In every event a resource list is set up and directions for resource collection is generated by the app.
Individual Volunteer Registry
With the purpose of keeping an updated record of active and available volunteers during an emergency, along with their respective skills, this system allows volunteers to update their personal information themselves.
Users
The users list has filters by role, state and subisdiaries.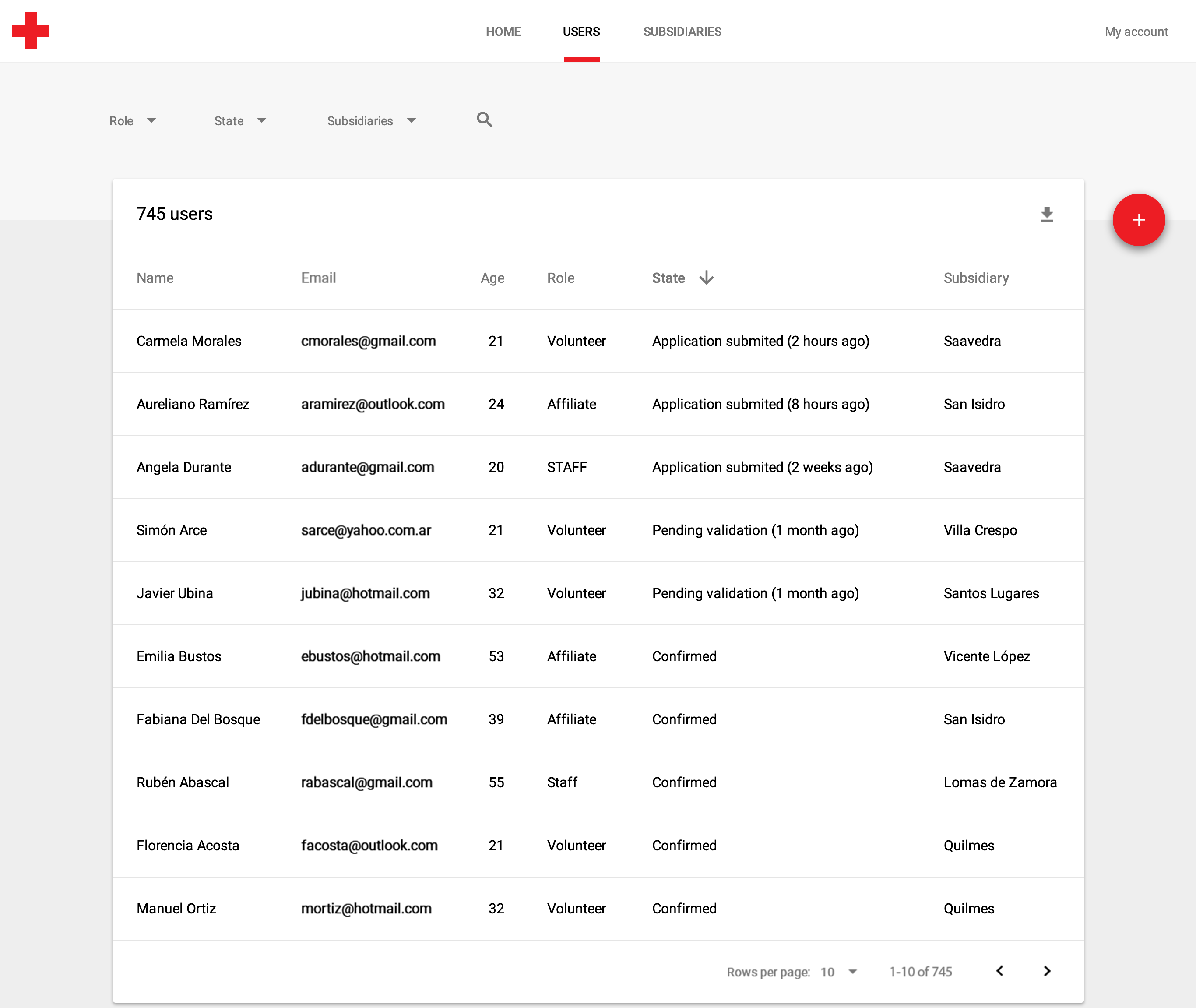 User detail
The red cross staff can add comments regarding the application and every change is logged so nothing get lost.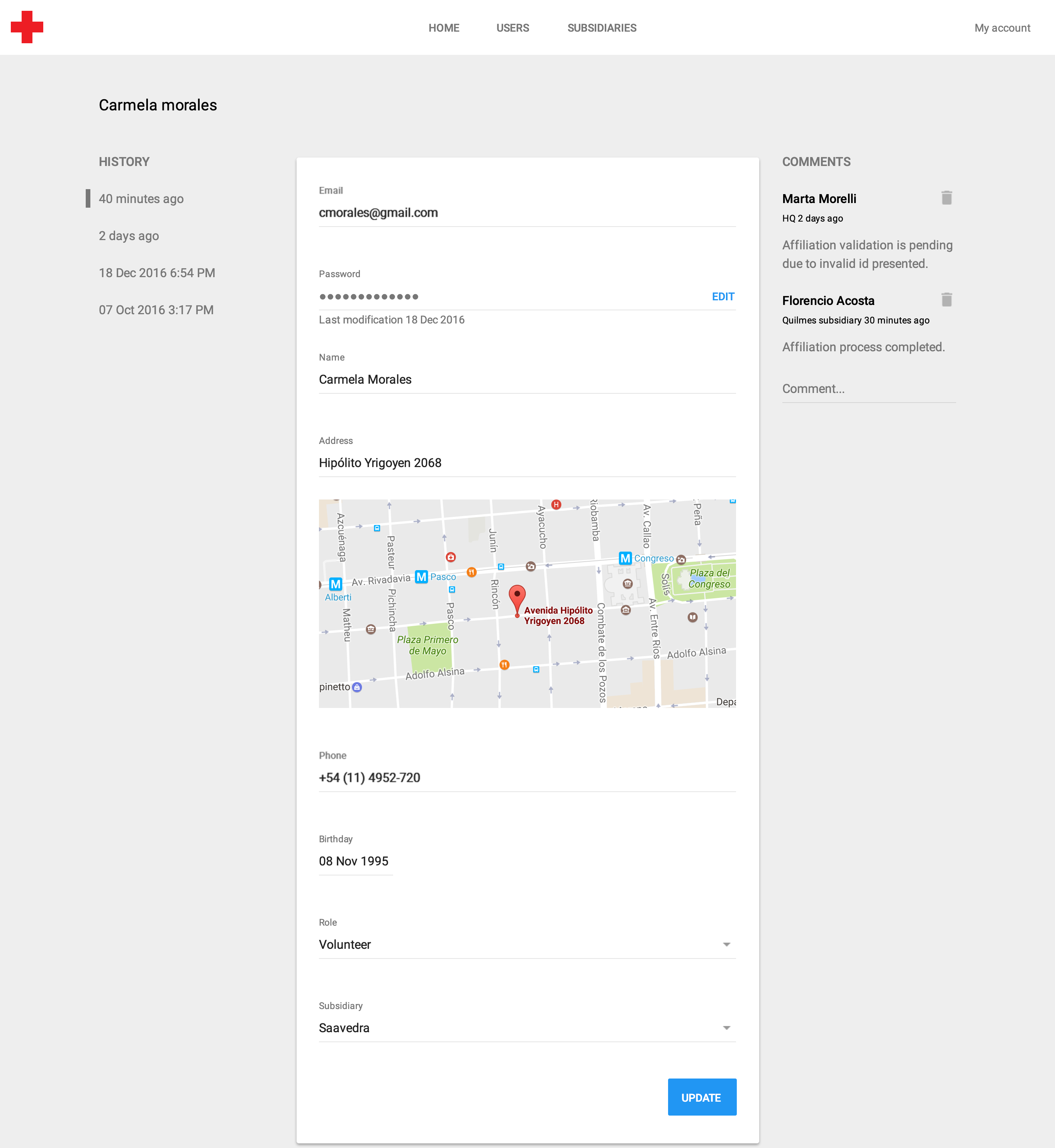 Automatic Volunteer Reach-out
With an updated volunteer database and a direct communication channel with each of them, the next step is a system that reaches out to them efficiently in the context of an emergency, which was previously done manually, demanding excessive time and effort.
Situation Assessment
With the purpose of improving the visibility during an emergency, in cases like a flash flooding, a real time visualization system was proposed, which feeds from geolocated reports generated by the community through social media or a dedicated mobile app.
Joint Information Management System
This consisted of implementing a joint information management tool between Red Cross and other organizations usually involved in the emergency response, such as Caritas or Civil Defense.
We proposed to develop every one of the solutions as free and open-source software, allowing similar organizations to benefit from them in the future, contributing to their improvement and evolution.
Also (like we do in all our developments), we planned to use standards that allow interoperability with existing systems. Particularly relevant to this is the use of HXL - Humanitarian Exchange Language, powered by UN's humanitarian coordination office. In all cost estimations, we took into consideration the possibility of reuse (without cost) of InSTEDD's free and open-source tools we developed in the past:
Impact
The workshop was successful in that it led to a profound understanding of how Red Cross responds to emergencies, and of the organization's structure and relevant processes, which allowed us to reach a prioritized list of goals in a short period of time. For Red Cross authorities, the workshop experience proved successful in that it provided a clear and fresh perspective of their needs and challenges, that hadn't been achieved in previous efforts. But also, it led to concrete, tangible results, like the Individual Volunteer Registry and the Resource Registration System can attest.
As in any agile development process that wants to be effective, the direct involvement of Red Cross authorities was key, bringing to the table a unique body of knowledge that can guide the design of a solution and the later development in its implementation.