Client
R4IT Tracking System is a highly customizable Applicant Tracking System (ATS) developed for Recruit4IT, a Dutch company specialized in recruitment in the field of IT, for managing large volumes of applicants to multiple companies.
Approach
The developed system allows the recruiters in the company to keep track of the application process for both the recruits and the recruiting enterprises. By defining a custom workflow consisting of multiple steps involving contacting, arranging interviews and collecting feedback, the application makes it easy for its users to manage different candidates in their respective stages of the application process.
Results
These are some of the features implemented in the application:
Notifying candidates via templated emails and SMS with news and reminders regarding their application process.
Bulk actions for easily managing large numbers of candidates by applying the same action to many of them with a single click.
Flexible workflow for applicants that can be easily customized with a user-friendly interface, defining all the steps involved in the matching and placing of an applicant with an enterprise; including the capabilities of specifying different actions based on the collected input, arranging meetings between the interested parties and sending reminders to them, among others.
Score-based skills for finding an appropriate match between a candidate and the interested enterprise.
Text-extraction for extracting information from uploaded resumes in PDF or Word format.
Integration with LinkedIn for easily obtaining information from their online profiles, as well as with popular job posting sites from the Netherlands (Monsterboard, Jobfeeds).
Metrics for tracing the progress of matching candidates with the multiple placements.
Interoperability with public site front end for candidates to edit their profiles in Recruit4IT's page, and customers to follow the status of their recruitments.
Feedback surveys for involved parties for evaluating both customer and candidate satisfaction, implemented using Jotforms.
Search
Candidate search by segment, seniority and skills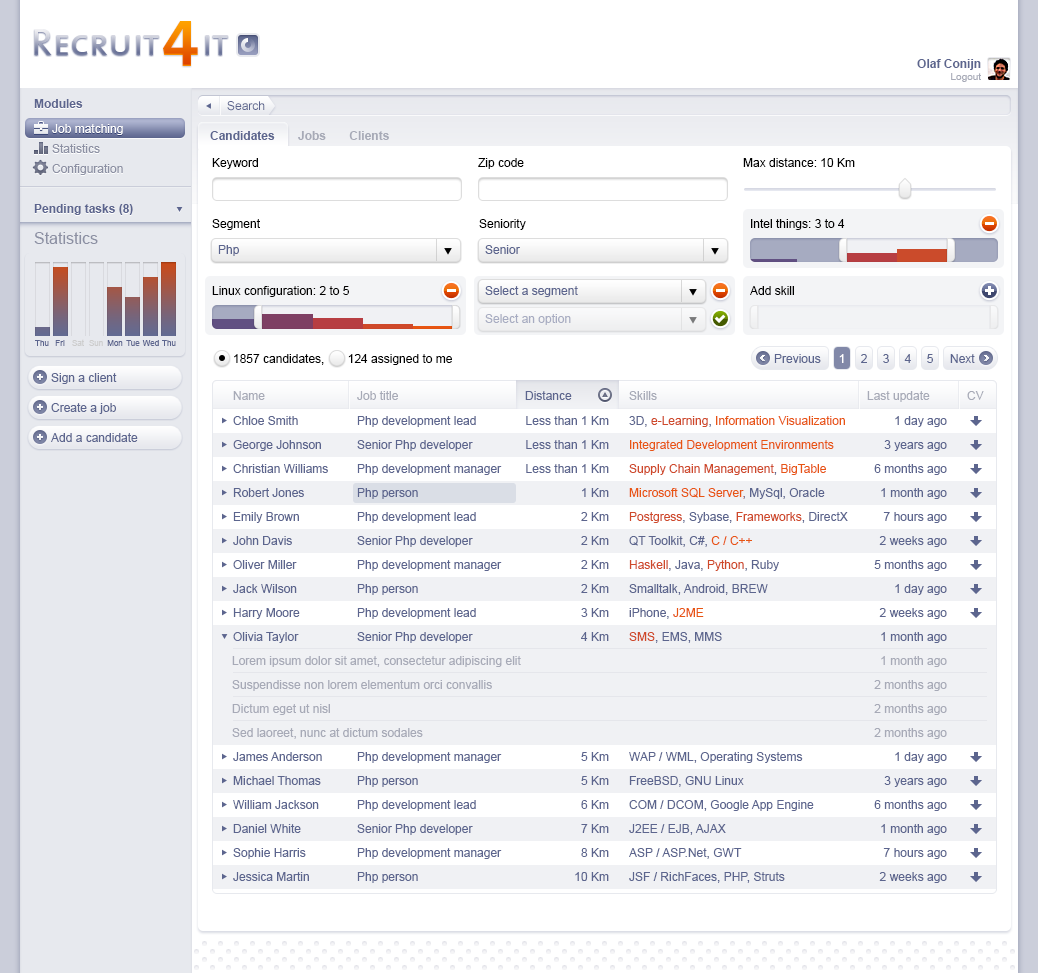 On-going match
Summary of the recruitment process with customer contact data, notes, viable candidates and configuration of publication